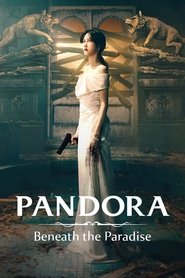 Pandora: Beneath the Paradise (2023)
Pandora: Beneath the Paradise – Diceritakan Hong Tae Ra (Lee Ji Ah) adalah seorang wanita yang dari luar kehidupannya tampak sempurna. Tae Ra memiliki keluarga yang bahagia, sangat berkecukupan, suami yang baik dengan karir cemerlang dan anak yang lucu. Sayangnya, ternyata Tae Ra mengalami lupa ingatan sehingga dia nggak tahu gimana kehidupannya yang sebelumnya.
Di satu titik, sang suami Pyo Jae Hyon (Lee Sang Hyoon) mencalonkan diri sebagai presiden. Itu artinya, Tae Ra kini menjadi calon ibu negara yang kehidupan pribadi dan sehari-harinya menjadi sorotan publik. Di sinilah dia kemudian menyadari bahwa kehidupannya yang sempurna hanya setting-an belaka dan penuh kepalsuan.
Sinopsis from IMDb
Hong Taera gets trapped in a fate like that of Pandora in Greek mythology. With a perfect husband and a lovely daughter, Taera leads a life envied by all. However, her repressed memories resurface. She sets out to take revenge and protect her beloved family.
Views: 43
Genre: Drama
Director: Kim Soon-ok
Actors: Ahn Nae-sang, Bong Tae-gyu, Cha Kwang-soo, Han Soo-yeon, Hong Woo-jin, Jang Hee-jin, Kyeon Mi-ri, Lee Ji-ah, Lee Sang-yun, Park Ki-woong
Studio: Chorokbaem Media, Studio Dragon