TUNGGU BEBERAPA SAAT UNTUK MEMUNCULKAN PLAYER, JIKA ERROR SILAHKAN GUNAKAN SERVER 1/2/3/DST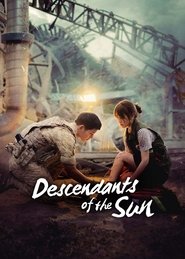 Descendants of the Sun
"Descendants of the Sun" Sebuah kisah cinta antara Captain Yoo Shi-Jin, yang milik pasukan penjaga perdamaian PBB, dan Dokter Kang Mo-Yeon. Karena permintaan PBB, mereka ditempatkan di ibukota negara lain tersebut.
"Descendants of the Sun" A love story develops between Captain Yoo Shi Jin, from South Korean Special Forces and Doctor Kang Mo Yeon, who works as a Surgeon at Haesung Hospital in Seul. They will find themselves in the middle of great events and deadly dangers, both in their Motherland and in the fictitious, war-torn country of Urk.
A drama about the love of people who get closer as they learn to be considerate of each other in desperate times and sacrifices made by people who throw themselves into natural disasters.
Subtitle: Indonesia | English
Views: 3637
Genre: Drama
Director: Kim Eun-sook, Kim Won-suk
Actors: Ahn Bo-hyun, Cho Tae-Kwan, Choi Woong, David Lee McInnis, Elena Zhernovaya, Hyun Jyu-ni, Jeon Soo-jin, Jin Goo, Jo Jae-yoon, Jo Jae-yun, Jo Woo-Ri, Kang Shin-il, Kim Byung-chul, Kim Hyo Myung, Kim Ji-Won, Kim Min-seok, Lee Seung-joon, Lee Yi-kyung, Onew, Park Hoon, Park Hwan-Hee, Seo Jeong-yeon, Seo Jung-yeon, Shin Dong-hoon, Song Hye-kyo, Song Joong-ki, Tae In-ho
Studio: Studio & New